Governance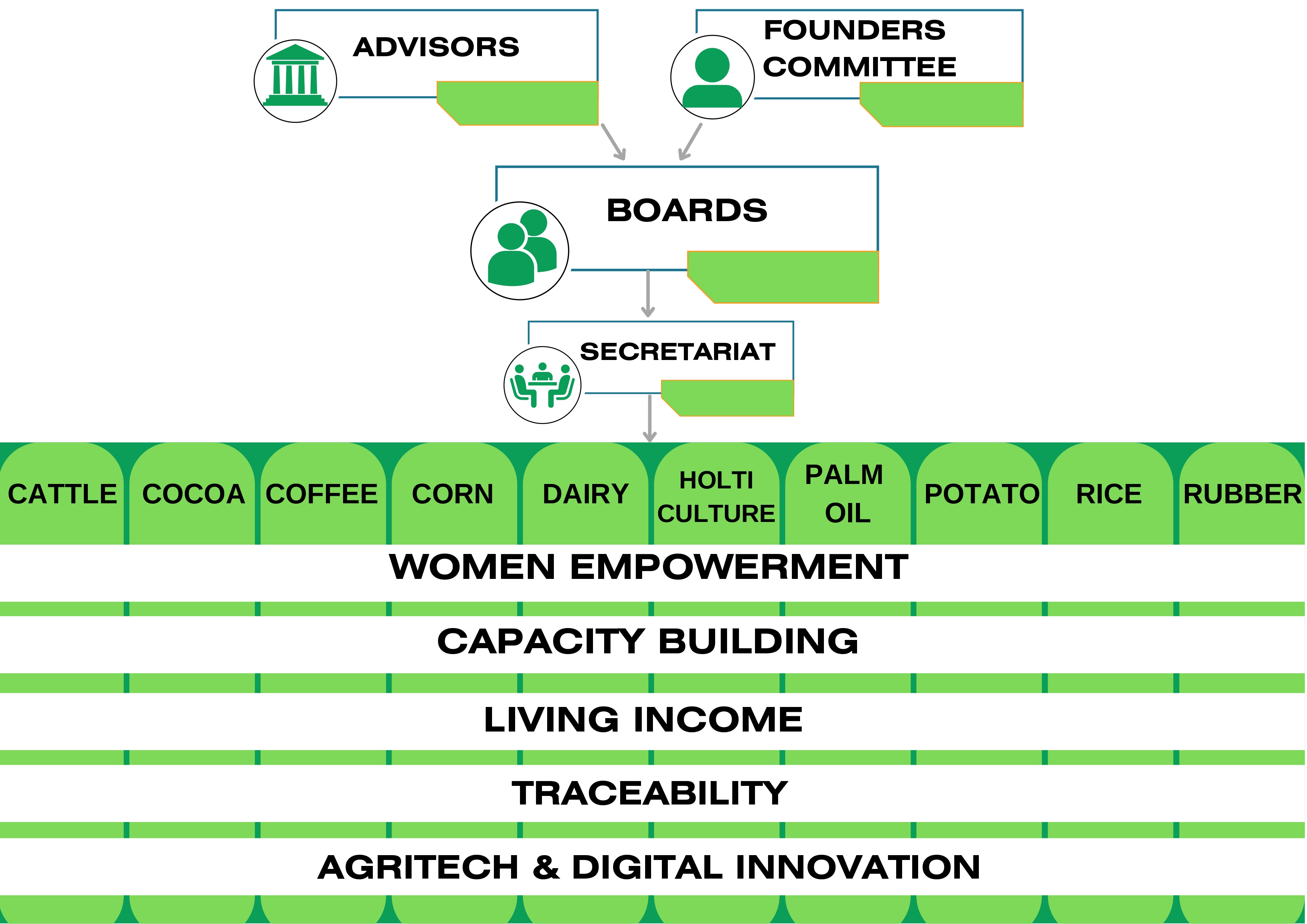 Founders Committee
PISAgro Founders Commitee includes All the Founders Companies, represented by their Indonesian leaders. The members main roles is to assures the Board upholds the basic principles of PISAgro, assure Board is staffed with well functioning chairmen and members, assure Board has proper mix of sectors (Finance, Industry, Donor), and assure Board remains apolitical.
Members:
Vice Minister of Agriculture
Vice Minister of Trade
Bayer
Sinar Mas
Syngenta
Unilever
Advisors
PISAgro advisor includes the government and others sectors with deep knowledge and ability to contribute effectively in PISAgro development. The members main roles is to Ensuring proper linkage with key decision makers in the respective ministries, Proper resource allocation and priority for PISAgro's related activities, Assure linkage between the senior government officials and PISAgro leaders.
Members:
Government (represented by the ministers/vice ministers):
Coordinating Minister of Economy Affairs
Ministry of Agriculture
Ministry of Trade
Ministry of Foreign Affairs
Ministry of National Development and Planning
Board
PISAgro Board includes the founders commitee's head of organization in Indonesia, with proven track record of having provided effective leadership role in a working group. The members main roles is to assure that PISAgro functions as platform, Provide guidance and review to WG regarding adherence to basic principles of PISAgro and assure that full authority, accountability and responsibility remains with the WG, Approve application of new paying members, Advocacy towards key governmental stakeholders.
Members:
Franky Oesman Widjaja - Sinar Mas
Beverly Postma - Grow Asia
Franciscus Welirang - Indofood
Arif Rachmat - Triputra Agro Persada
Raul Oberman - Individuals Board
Mohasin Kabir - DFAT
Nassat Iris - IDH
Samer Chedid - Nestle
Husodo Angkosubroto - Gunung Sewu
Secretariat
PISAgro secretariat main roles is Empower and supports Board in its key roles, in particular in articulating key action national and regional government should consider taking to enhance sustainable agriculture throughout Indonesia at scale, Linking-pin to key internal and external stakeholders (Government, Working Groups, Donors, NGOs) Regarding external stakeholders the Executive Director acts on behalf of the Board, Facilitate information sharing and dissemination of best practice, Assure transparency of quantitative and qualitative progress of Working Groups, provides standardized reporting format along the key parameters, Attract new member, and Serve as one door access for government entities to PISAgro.
Members:
Executive Director
Consultant
Office Manager
Strategic Engagement Specialist
Communication and Social Media Manager
Project Management Officer